News Item #1 (10/31/16): And October goes out with a bang! A new personalized kids book is available online, and three new large plush dolls are now available in stores and online - Sunriser, Skydancer and Stormy!! I also recently found the owner of a vintage Stormy prototype doll - something the fandom has been seeking for years. Happy Halloween to all!! :D
News Item #2 (10/17/16): October keeps getting better for Rainbow Brite fans! Two more items will be coming to Hallmark stores soon - a Starlite itty bitty, and an adult Rainbow Brite coloring book :) You can watch my review of Starlite here. I very much look forward to getting the coloring book in my hands!
News Item #3 (10/4/16): Hallmark is hosting a Rainbow Brite Photo Sweepstakes!! Submit your photos of yourselves and your children dressed in Rainbow Brite clothing, costumes, or surrounded by Rainbow Brite collectibles to enter to win some super brite prizes! Find out how to enter here.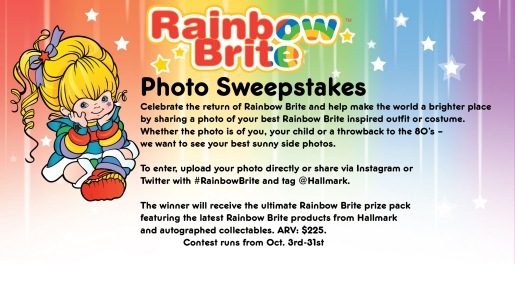 News Item #4 (10/4/16): Three new products are beginning to show up in Hallmark stores! The 2016 Keepsake Ornament, an itty bitty ornament, and a 1,000 piece puzzle. You can see my review of these products on my YouTube channel.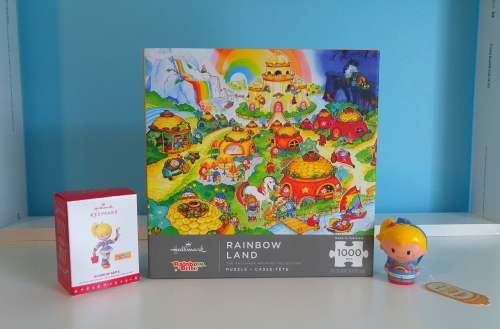 News Item #5 (9/30/16): The "Rainbow Brite Day" celebration in Kansas City was a huge success, and I was also given the opportunity to tour Hallmark Headquarters while I was in town! I learned many amazing bits of information, both old and new, and I think you'll find them all fascinating! Check out the video below, and make sure to follow the links in the video's description to see everything else I've posted about that amazing trip.
News Item #6 (9/1/16): Hallmark is hosting its first ever "Rainbow Brite Day" in their Kansas City, Missouri store, right near Hallmark Headqaurters! You'll be able to meet the creators of Rainbow Brite, have your new books autographed, listen to readings by the new books' Rainbow Brite voice actress, participate in costume contests and more! See the image below for details, and check out the official Rainbow Brite Facebook Page. I hope to see you there! :) I'm a teensy bit excited myself ;)
News Item #7 (8/30/16): Hallmark has released two new kids books! One is a pop-up book, and the other is a ColorQuest book which comes with a talking Rainbow Brite figure. They're now available in stores and online :) You can watch my review video here.
News Item #8 (8/12/16): RainbowBrite.net is now on Patreon! I've given Rainbow Brite a home on the internet for almost 20 years. And while there are still things I have in store for the site that I can accomplish myself, I'm also at the point where I need some help. It's time to tackle the big projects that fans have wanted for years, but were too difficult for one person to do. So take a look at the reward levels and become a patron today! :)