News Item #1 (9/1/16): Hallmark is hosting its first ever "Rainbow Brite Day" in their Kansas City, Missouri store, right near Hallmark Headqaurters! You'll be able to meet the creators of Rainbow Brite, have your new books autographed, listen to readings by the new books' Rainbow Brite voice actress, participate in costume contests and more! See the image below for details, and check out the official Rainbow Brite Facebook Page. I hope to see you there! :) I'm a teensy bit excited myself ;)
News Item #2 (8/30/16): Hallmark has released two new kids books! One is a pop-up book, and the other is a ColorQuest book which comes with a talking Rainbow Brite figure. They're now available in stores and online :) You can watch my review video here.
News Item #3 (8/12/16): RainbowBrite.net is now on Patreon! I've given Rainbow Brite a home on the internet for almost 20 years. And while there are still things I have in store for the site that I can accomplish myself, I'm also at the point where I need some help. It's time to tackle the big projects that fans have wanted for years, but were too difficult for one person to do. So take a look at the reward levels and become a patron today! :)
News Item #4 (8/5/16): A new Rainbow Brite book has been released, and this one is extra special. It's the first ever Rainbow Brite book geared towards adults! It's full of adorable artwork and quotes to cheer you up on your gloomiest days. You can pick one up at a Hallmark store near you or online at Hallmark.com :)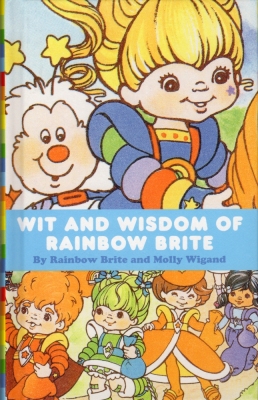 News Item #5 (6/27/16): Thirty-two years ago today, Rainbow Brite brought more color than ever to American TV screens. But there's much more to our favorite darling than meets the eye! On this anniversary, check out Kenyth Mogan's article on The Colorful History of Rainbow Brite, and listen to our latest episode of Brite Cast where we interviewed him :) This never-before seen or heard info will blow your minds!
News Item #6 (6/8/16): The Limited Edition Shy Violet itty bitty is here, and she's adorable!! She was only available online and sold out in 2.5 days! Hopefully that means that more Rainbow Brite characters will be coming down the line :)
News Item #7 (5/31/16): Hallmark is releasing brand new Rainbow Brite greeting cards!! Watch this video to see all seven, and find out how to order them for yourself: